Eleonora and Samee's wedding in Granada was a two-day wedding. As you saw in this other post, the celebrations started with the Mendhi, a full color celebration prior to the wedding day.
The next day, we celebrated their wedding overlooking the Alhambra in one of the most beautiful Cármenes in the city, Carmen de los Chapiteles.
The groom got dressed at the Hotel Luna surrounded by his family. For the ceremony he wore an elegant black tuxedo to which the wedding date was embroidered. He accompanied her look with cufflinks, suspenders and socks with reddish tones. On the lapel, a small white pin.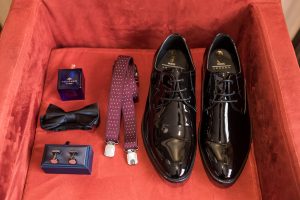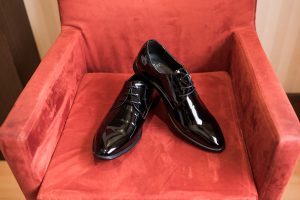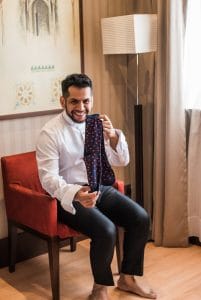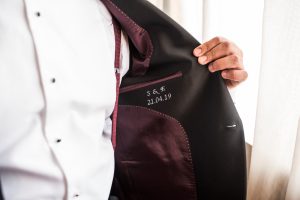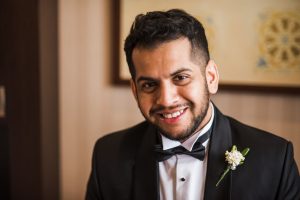 Eleonora, prepared in a boutique hotel at the foot of the Alhambra, accompanied by her family. Pilar Rosillo, was in charge of her styling, both hairdressing and makeup.
Eleonora accompanied her look with shoes in bronze, a color present in the rest of the decoration. Carolina Bouquet, who was responsible for the decoration, prepared for her a beautiful flower bouquet in white, nude and peach tones.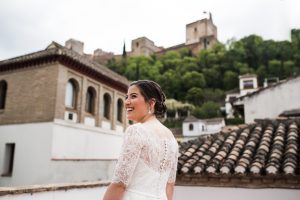 Turkish tradition says that the bride dresses with her family, and it is the groom, accompanied by his family, who must go and pick her up. To do this, he must pay a dowry, high enough, to be let in.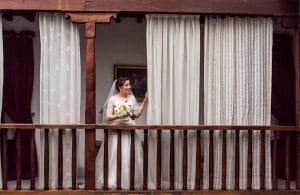 Later, the bride and groom leave together towards the ceremony place. In this case, the walk could not be more beautiful, since they both walked the Paseo de los Tristes together and came walking to Carmen together.
The day was very cloudy, but the weather respected us and we were able to carry out the ceremony outside, and we had a wedding with views of the Alhambra, just as the bride and groom had dreamed of.
Isa Molina was in charge of all the images of the day.
 S
he was responsible for capturing some portraits of the couple after the ceremony.
After the ceremony, and while the bride and groom took some photos, the guests enjoyed a cocktail with corners and typical products of local cuisine.
We prepared a seating plan in bronze, with flowers and Indian fabrics, from which the stationery hung.
We decorate the living room following the color palette; beige tablecloths and golden chairs. Centers in gold and bronze tones with flowers in pink, white and green tones.
After dinner, the bride and groom cut the cake, which they then accompanied with a large table of sweets. The cake, a Lussocake design.
The wedding lasted until late, with a big party.
Mr Philm, who was in charge of the film, knew how to portray very well, this great two-day party, which ended with this wedding overlooking the Alhambra.